Have you been thinking of visiting our no-appointment needed, walk-in orthopaedic urgent care facility?
If so, you might have some questions. In this article, we dive into what our Rapid Orthopaedic Care Urgent Clinic (ROC) offers and how it expedites specialized treatment for musculoskeletal issues of all kinds.
Call Us Today! 360.570.3460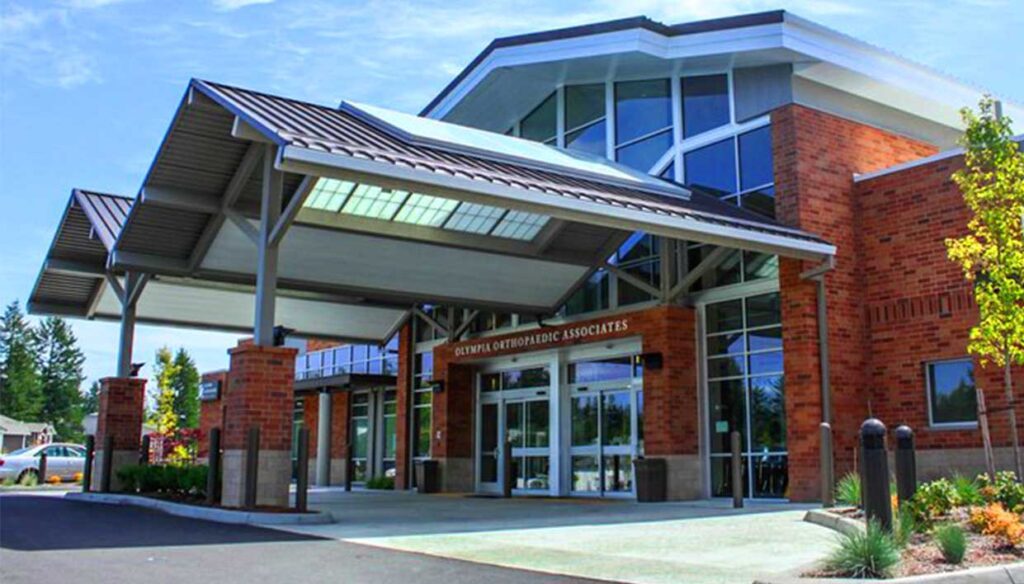 View our location on Google Maps by clicking address below:
3901 Capital Mall Drive SW
Olympia, WA 98502
Peter walked into the Rapid Orthopaedic Care Clinic (ROC) on a murky, morose, Monday afternoon. He had been clearing brush from his driveway after a rainstorm when he slipped on a patch of moss. As he fell, he thrust his hand out in front of him and crashed down hard on his right wrist. Instantly, it was throbbing and didn't look quite right. After seeing what happened, his wife urged him to go to the ROC to get it checked right away for a serious injury… she mentioned that he can't just "take some ibuprofen and shake it off". Peter went to his home office, gingerly typed out OlyOrtho.com, found the Rapid Orthopaedic Care tab, and called in. Just like that, he was off to hopefully prove his wife wrong and that "it's just a bruise".
After registering and settling into a waiting room chair, Peter chatted with a few of the patients around him. There was Albert, an older gentleman who had emergency surgery out of town while he was visiting family the week before and wasn't sure if his incision was healing properly. There was also a middle-aged woman named Susan, who was suffering from shoulder pain caused by the repetitive nature of her work in a nursing home and needed to find quick solutions to get back to her growing family waiting for her to arrive from her day. Her pain had become much worse after lifting a heavy patient of hers, into their bed the night before. And then there was also little Aiden in the corner, whose family had left him with his babysitter during the weekend when he slipped off the playground slide at his favorite park and injured his left elbow. He was cradling it closely, alligator tears in his eyes.
Peter's trip to the ROC, located in West Olympia, was a pretty typical one. On any given day, it's staff see everything from ankle sprains to broken bones to dislocations. They also see patients who have had ongoing orthopaedic issues that were worsened by a fresh injury. From little tykes to elderly patients, they care for all comers with various orthopaedic needs!
Our Walk-In Rapid Orthopaedic Care (ROC) Urgent Clinic is open 7 days a week, 10am – 5:30pm.
Now that he was in the waiting room, Peter was a little unsure of what to expect from his visit today. His wife had assured him that all the stories she has heard from past bingo nights with the ladies, were all wonderful experiences from the ROC. As he looked at his swollen, sore wrist, Peter wondered if he would need imaging or a referral to see a specialist and how that would all get arranged. This was not how he intended to spend his Monday afternoon!
His initial concerns of whether his insurance would cover his visit because he was with a new provider were eliminated with a simple call to the front desk before he made the trip. The staff had gone over all his insurance details and confirmed that his visit would be covered.
After a short wait, Peter got called into a clinic pod and was assessed by one of the three physician assistants (PAs) that staff the ROC. The PA, Matthew, agreed that there was a concern for a break or fracture and sent him for an immediate X-ray that was completed on-site.
Not long after getting the X-ray done, Matthew rejoined Peter and told him he had a distal radius fracture. Matthew explained exactly what that meant and the mechanism of how it happened when Peter fell on his outstretched hand. He then explained to Peter the treatment plan. First, he discussed how to control the pain using non-narcotic medications. Then he explained that the injury would need to be splinted today, and then followed up by one of the orthopaedic specialists in seven to ten days.
Before he left, Peter received a carefully applied splint and was referred to one of the Olympia Orthopaedic sport medicine specialists for further follow-up and possible casting.
In the meantime, little Aiden was also seen. After getting an initial assessment and a set of X-rays, the PA explained to Aiden and his parents that he had suffered a supracondylar fracture, meaning that his upper arm bone – the humerus – had broken slightly above the elbow. In this case, some of the X-rays findings were a bit concerning, so Matthew decided to contact the on-call orthopaedic surgeon for his opinion. Using their specialized DocHalo software, Matthew instantly shared the X-rays and his concerns with the on-call physician. Within a few minutes, the doctor replied. Based on the imaging, it was decided that Aiden's elbow should be immobilized with a splint and followed up by an orthopaedic surgeon urgently on Monday morning. His parents were given thorough instructions of things to look out for in the meantime, with directions to come back immediately if his condition worsened.
At first, Aiden's parents were a little concerned that his injured arm was not getting casted right away. Matthew explained the reasons why splinting was a better approach initially, as the body needed to go through its natural inflammatory process, swell, then reduce back down. Only then would it be safe and helpful to cast his little arm.
Aiden left with a follow-up appointment made, looking a little more comfortable now that his elbow was splinted and that he had received some pediatric-dosed pain medications. As he was ushered out the doors of the ROC, with stickers on his cheeks, he could be overheard asking his parents if his friends would be able to sign his cast once he got it on.
As Peter confirmed his follow-up appointment with the front desk and Aiden got fitted for his elbow splint, Mr. Smith had also finished his appointment and was waiting for his ride to pick him up. He had spinal surgery the previous week to address his ongoing back pain. Although he was recovering well, Mr. Smith was feeling a bit worried about whether his incision was healing quickly enough. It was difficult for him to visualize it himself and his daughter had mentioned it looked a bit red.
After listening to Mr. Smith's concerns and reading his entire operative report, Matthew examined his incision. It was actually healing quite nicely. Upon asking Mr. Smith about how frequently he was changing the dressing, Matthew suggested some changes to his wound care routine. Because he saw no signs of infection, he did not prescribe antibiotics, but he reviewed all the signs and symptoms of infection. Finally, Matthew reassured Mr. Smith and told him to come back if anything changed or worsened.
We understand that your time is valuable. For your convenience, Rapid Orthopaedic Care Urgent Clinic offers on-site X-Ray services.
Matthew also immediately notified Mr. Smith's surgical team of his visit to the ROC, the nature of his concerns, and how they were addressed. Mr. Smith's surgeon would be very pleased to know that his mobility was increasing each day and that there were no serious post-op complications.
On the way out to the parking lot, Peter noticed Susan driving away, looking a bit cheerier. She had arrived at the ROC with debilitating shoulder pain. It had all started within a few months of her taking a new nursing job, which required a lot of lifting and bending. Then yesterday, the pain had become almost unbearable. She had barely been able to finish her shift and had gotten little sleep last night from the pain.
Susan knew she'd been ignoring the pain for too long and now she had no choice but to get it looked into.
The PA conducted a thorough exam, checking her range-of-motion and asking a lot of questions about the nature of her pain, her work, and the most recent injury. Based on his evaluation, Matthew was almost certain that Susan had sustained a rotator cuff tear which would likely require surgery. He explained that it would not be possible to get a same-day MRI done, but that he could send the referral right away and Susan would get a call from imaging within a week to 10-days. Based on the severity of her pain, Matthew offered her an intra-articular steroid injection into the shoulder for pain control. Susan gratefully accepted.
The PA conducted a thorough exam, checking her range-of-motion and asking a lot of questions about the Matthew also ordered some lab work, referred her for pre-hab physical therapy, and sent a referral to an OOA surgeon specializing in rotator cuff repairs. By ordering everything today, Susan would have all her imaging investigations done before seeing the surgeon, so they could get right into a treatment plan, which would most likely involve surgery given her physical exam findings. She left feeling a bit apprehensive about possibly needing surgery, but vastly relieved to finally have some answers and in much less pain than when she arrived.
It had been a pretty typical Monday afternoon at the Rapid Orthopaedic Care Center– helping many patients with all different ortho needs. What all the patients shared in common was a desire to get back to their life in motion. The entire staff at the ROC are delighted to assist in that process every day!
"I love that we're able to help patients on the same day because there is definitely a need. We've got weekend hours and we're also open after clinics are typically closed. We can also fast track patients and offer a higher level of orthopaedic care because we can get follow-up treatment arranged quickly and can differentiate between a surgical and non-surgical patient."
Clint M. – Physician Assistant, Rapid Orthopaedic Care
"My favorite part is the variety and the fact that we never know what's going to walk through the door. Our prompt treatment speeds up a patient's progress towards their goal, which is usually a return to normal health. When we eliminate multiple unnecessary steps, people get back to their normal daily lives faster."
Matthew M. – Physician Assistant, Rapid Orthopaedic Care